December 24, 2008


Map of Pakistan with Afghan and Indian boundaries. (Source: infoplease)
While the U.S is facing an economic meltdown and people are hoping for better days under incoming President Obama, thousands of miles away in Pakistan things are going from bad to worst. Pakistan is always in the news in western media but unfortunately most of the news is extremely biased. The reports that emerge from Western think tanks on Pakistan are mostly one-sided and reflective of U.S Foreign Policy rather than independent analysis.
Changing relationships
Pakistan became a frontline ally of U.S after 9/11. Since then things have been moving in the wrong direction to say the least. Under Former President Musharraf, Pakistan started using its army against insurgents and Taliban sympathizers in Northern Tribal belt area of Pakistan, commonly known as FATA (federally administrated tribal areas). This resulted in a deadly wave of terrorism directed against Pakistani people and the army itself. Vast majority of the Pakistani public just like the majority of the Muslim world views U.S war on terror as a War against Islam.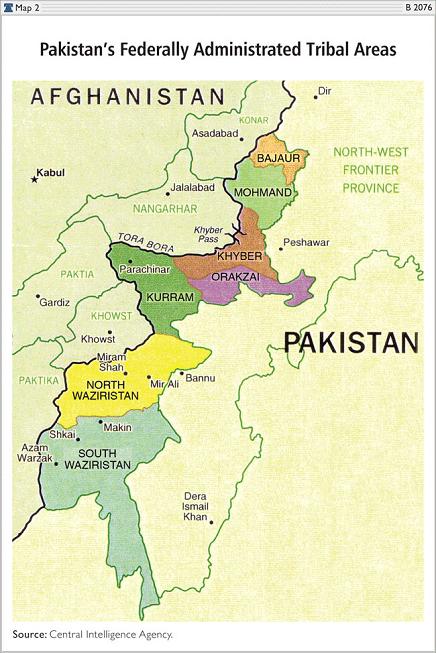 This CIA map shows the the Federally Administered Tribal Areas (FATA). Until friction following the fall of the Taliban in neighbouring Afghanistan, the tribes had friendly relations with Pakistan's central government. Today, FATA is only nominally controlled by the central government of Pakistan. In reality it is practically entirely controlled by the Pashtons, the region is controlled by tribal elders. The North West Frontier Province (NWFP) borders Afghanistan to the Northwest and is home to the majority Pashtuns (locally referred to as Pukhtuns) as well as other smaller ethnic groups. (map: CIA)
The primary reason for this is that Muslim world does not see any justification for U.S troops to be stationed in almost all of the Middle East with few exceptions like Iran, and Syria. Secondly, Bush administrations' lie that Iraq had weapons of mass destruction has proved to be a fatal blow for U.S image in the Muslim world. The common man on the street views U.S as an aggressor nation and compares U.S military adventurism in the Middle East with Imperial history of United Kingdom, and other European Nations. U.S public needs to realize that Muslim world was under colonial rule for the most part of the nineteenth century and early part of twentieth century, until the end of the Second World War; hence the public is extremely suspicious of U.S troop's presence in Muslim world and U.S continued support of corrupt, incompetent rulers of the Muslim world.
The Schism: The people and the Zardari government
Pakistan is a country with 180 million people, nuclear weapons, and half million army. Pakistani population is turning against the Pakistani government which is seen as a spokesman of Washington D.C. To give the readers some idea of how the Pakistani population looks at this Zardari government I will quote some slogans and jargons that are used by the public in Pakistan. This government of President Zardari which the U.S is supporting just like they supported Ngo Dinh in South Vietnam is called "sellout to the CIA", "mouth piece of the U.S", "slaves of the Yankees", and the harshest of all the slogans "Traitors". This is the opinion of the common man on the streets of Pakistan against the current government. The International Republican Institute Survey on Pakistan that came out recently also reflects this trend. In the survey
88% of the Pakistani population thinks that the country is headed in the wrong direction.


59% think that the economic situation of the country will get worst. 76% think that the current government has performed poorly.


67% think that things will not get better under this "democratic" setup and lastly,


54% of the population thinks that peace deal with the extremist is a better option than the Army operation that is going on in FATA.

The U.S plans to neutralize Pakistan, as it has done so before with other countries. U.S officials are talking openly about disbanding Pakistan's premier spy agency, the ISI; the U.S is constantly raising concern for the safety of Pakistan's nuclear weapons and, the U.S wants to cut down Pakistan army into half, making it an effect counter-terrorism force from a professional army.
The U.S. historical treatment of its allies
Andrew G. Marshall is a Research Associate of the Centre for Research on Globalization (CRG). His recent article on Middle East and Pakistan gives us inside to the plan that will be executed under new U.S administration. Marshall's article mentions that Pakistan is being destabilized under the same plan that was used to destabilize former Yugoslavia.
"As astonishing and outlandish as these claims may seem, the U.S has a long history of turning on its allies when they seek to become self-sufficient and developed, such as with Saddam Hussein and Iraq in the early 1990s. Also, it is vital to note the role of the IMF and World Bank in creating economic crises, and thus, political-social-ethnic instability, which invariably has led to all out ethnic war, genocides and international interventions [in countries such as Yugoslavia and Rwanda]".
Marshall notes that in 2008, "Pakistan was again seeking IMF help. On Nov. 25, it won final approval on a $7.6 billion loan package after foreign reserves shrank 74 percent to $3.5 billion in the 12 months ended on Nov. 8." This loan was approved a day before the Mumbai attacks began. On December 4, it was reported that,
"Tough conditions of International Monetary Fund (IMF) have now started surfacing as IMF and the Government of Pakistan (GoP) agreed to discontinue oil import support, eliminate power subsidies and budgetary support of the government, public and private entities. IMF and GoP (government of Pakistan) have agreed to phase out the State Bank of Pakistan's (SBPs) provision of foreign exchange for oil imports. … Further steps will be taken during the remainder of the fiscal year to strengthen tax enforcement. Moreover, fuel prices will continue to be adjusted to pass through changes in international prices … The program envisages a significant tightening of monetary policy."
Winners and Losers
A similar plan was discussed by Lt. Col Ralph Peters, in a 2006 article of Armed Forces Journal. Peters argues that redrawing the map of Middle East is a must in order to control the strategic locations and assets of Middle East and Central Asia:
"Saudi Arabia would suffer as great a dismantling as Pakistan … Iran, a state with madcap boundaries, would lose a great deal of territory to Unified Azerbaijan, Free Kurdistan, the Arab Shia State and Free Baluchistan, but would gain the provinces around Herat in today's Afghanistan … Pakistan's Northwest Frontier tribes would be reunited with their Afghan brethren [and] "would also lose its Baluch territory to Free Baluchistan. The remaining 'natural' Pakistan would lie entirely east of the Indus, except for a westward spur near Karachi."
Peters even made up a helpful little list of "losers" and "winners" in this new great game: as in, who gains territory, and who loses territory. Among the losers are Afghanistan, Iran, Iraq, Israel, Kuwait, Qatar, Saudi Arabia, Syria, Turkey, United Arab Emirates, the West Bank and Pakistan. And Peters made the startling statement that redrawing borders is often only achieved through war and violence, and that "one other dirty little secret from 5,000 years of history: Ethnic cleansing works."
U.S. Think Tanks Play With Fire
The problem with U.S think tanks and policy makers is that they have no connection with the common people of the country whose destiny they are trying to change. U.S is used to dealing with one dictator after another. First it was Pervaiz Musharraf, a military dictator who was in power obliging to U.S demands, now its Zardari, a civilian dictator who is trying his best to out flank Musharraf in serving U.S interest.
Destabilizing Pakistan is playing with fire. There is no guarantee that the Pakistani army will go all the way and give concessions to U.S and NATO while compromising Pakistan's national interest. What happens if the U.S is successful in persuading Pakistani government to disband the ISI and cut down Pakistan army into half? We can recall what happened in Iraq after U.S disbanded the Iraqi army and Baath party infrastructure. Suddenly 300,000 men who were part of an army became mercenaries for hire. If Pakistan army is cut down into half and the ISI is disbanded then there will be no control over almost 400,000 men and they will readily work towards creating more trouble for U.S and NATO troops inside Afghanistan.
The dark possibility of a civil war inside Pakistan will remain if Pakistan is destabilized. Then there is the question of Pakistan's nuclear weapons? Who will be able to guarantee their safety if Pakistan is destabilized further? As long as the Pakistan army is fully intact it will work with the U.S and NATO to safeguard U.S and Pakistan's interests. Unfortunately U.S is pressuring Pakistan Army and ISI too much for their liking. At the moment it is not clear what the stance of the Pakistan Army will be in days to come. The army is also part of the nation, and their mood will be reflective of the mood of the nation. Already, the army has declined to accept pressure from the government of Pakistan on matters of National Security.

Pakistan and India
After the terrorist attack in Mumbai, India, tensions between India and Pakistan have increased tremendously. The Pakistan government is once again succumbing to Indian pressure and its response is seen by the Pakistani people as a weak response. Serious doubts are being raised by public about government's ability to give a proper response to India. Every Pakistani citizen knows that India is their arch enemy. This opinion of India in the Pakistani mind cannot be changed by the sugar coated rhetoric of President Zardari or U.S Secretary of State.
The problem with Western experts on South Asia is that they don't understand the dynamics of Pakistan-India conflict. The root cause of conflict between Pakistan and India is Kashmir. Without the resolution of this conflict permanent peace between India and Pakistan cannot be achieved. There is peace in Europe today because they have resolved their problems and disputes and their countries treat each other with equal respect. We should not to forget that two brutal world wars were fought in Europe that completely devastated Europe. After such devastation Europe got together and realized that mutual peace is must for coexistence. Peace between two countries can only be on equal terms. The U.S and Soviet Union were able to co-exist because both had nuclear weapons. If Pakistan is destabilized then it's not possible that India will remain intact and enjoy exponential economic growth rates.
At the moment the biggest issue is tension between India and Pakistan. India is hoping that U.S will be able to pressurize the Pakistani government into allowing India to carry out "surgical strikes" inside Pakistan, just like the U.S drone attacks of this year. India wants to make sure that Pakistan will not respond to these strikes. This is definitely not acceptable to Pakistani army and the public. It might even be asking too much from already weak Zardari government. Already there is a rumor circulating in Islamabad that Prime Minister Yousuf Gillani will be replaced. Nawaz Sharif, two time former prime minister and leader of the opposition, is gearing up for an offensive against the government's ongoing domestic and international policies.
If the Pakistan army has decided to respond to Indian surgical strikes and India has planned to carries out such strikes, then tensions between India and Pakistan can turn into a short term high intensity conflict or war. This will be a disaster for this region, U.S interest in this region, Middle East and the U.S economy. Bangalore, and Hyderabad, are silicon cities of India and top IT capitals of the world. India's IT exports amount to more than $40 billion dollars, with U.S taking a market share of 60%. U.S will certainly not want a war between India and Pakistan that will jeopardize business between India and U.S. Lastly any full scale conflict between India and Pakistan will threaten this region with the potential use of nuclear weapons.
Conclusion
In the long run, U.S plans to disband ISI, cut down Pakistan army, and break Pakistan into smaller parts will only lead to more chaos in this region. Pakistan will become center of a brutal civil war. This will give considerable strength to Islamic militants who will have a free hand to fight openly against U.S/NATO forces and their pro-U.S Pakistani elements. For eight years the world has witnessed the dire consequences of the wrong policies of Neo-Cons. It is high time that new U.S administration changes track and returns to dialogue and peace process in the entire Middle East. Unless this happens, we are in for at least four more destructive years in Middle East and the populations of the U.S and Europe will pay dearly, at the very least in the economic costs of this destruction.
Also See Talha Mujaddidi's October 7, 2008 essay on Axis of Logic:
© Copyright 2008 by AxisofLogic.com
This material is available for republication as long as reprints include verbatim copy of the article its entirety, respecting its integrity. Reprints must cite the author and Axis of Logic as the original source including a "live link" to the article. Thank you!
---
Talha Mujaddidi is a writer/analyst and Axis of Logic correspondent, living in Pakistan. He can be contacted at: tamujadd@gmail.com